RAS Digital Combination Lock

A simple and secure digital lock with an emergency override key which gives the system manager the ability to assign user codes from a remote location using an online database. This dispenses with the need for users to carry keys and reduces running costs by removing the need for service calls to change lock codes locally. Typical applications are lockers and personal storage.
Self powered, 2 off standard AA batteries
Simple to install
Suitable for wide variety of storage applications
Easy 4 digit user pin
Battery condition check
Emergency override key
Designed and manufactured in the UK
Enquire about the RAS Digital Combination Lock
Online System
Management of the locks is via a simple web based system. This can be accessed from any location with the usual range of desk based and hand held devices. If the customer is managing multiple installations, all of these are controlled from this one convenient website.
Once online the manager is able to see at a glance which locks are currently available and allocate these to new users. The rental period can be for an individual user or a group of users and can even be set to unlock automatically. All of this at a push of a button.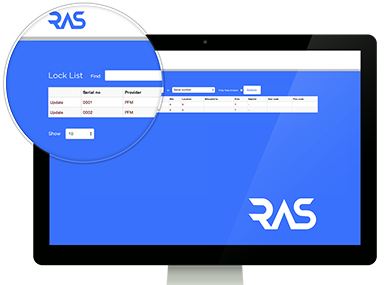 No user keys, no on site reprogramming, all managed remotely
Enquire about RAS Digital Combination Lock
If you wish to discuss your requirements, please call the experts on +44 121 505 0400 or email [email protected]
Alternatively complete the form and we will contact you.
Lock Making Heritage
As a specialist manufacturer of locking systems, Lowe & Fletcher supplies a wide variety of locks for industrial and OEM applications. We supply over 70 million products annually including simple mechanical locks, the latest electronic locks, and many bespoke solutions, enabling us to meet diverse locking requirements.
Learn More